If hybrid and electric vehicles can use the energy stored on board more intelligently, big issues like battery mass and packaging become more manageable.
Adding a multi-speed transmission to an electric vehicle or plug-in hybrid improves the range and performance just as it does for internal combustion engines. The torque density eDrives require is on a completely different level, however.
GKN Automotive's unrivalled global expertise in high-performance torque system integration made the world's first two-speed eDrive system possible. Partnering with BMW on development of the i8 plug-in hybrid sports car's eDrive put GKN Automotive's solution into series production.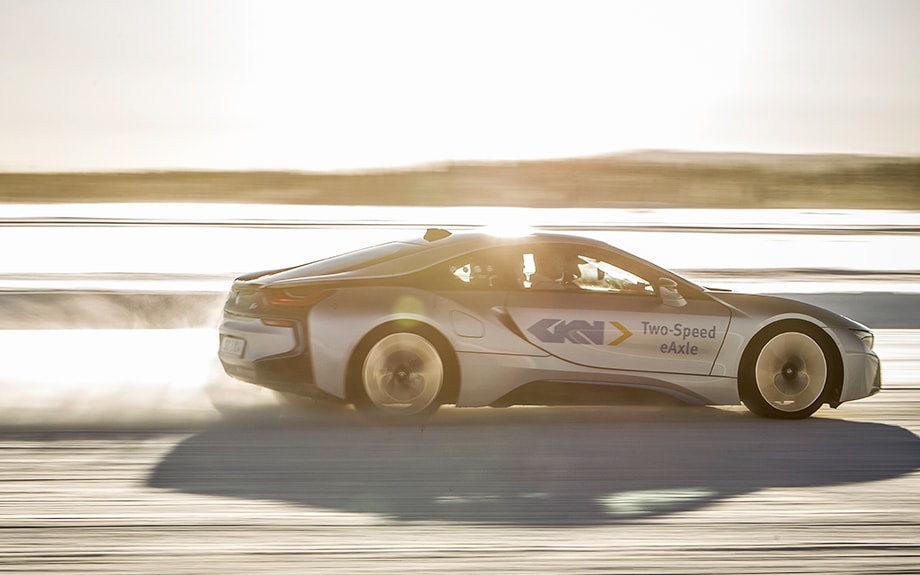 The company's two-speed eDrive achieves exceptional torque density, delivering peak drive torque of 2800Nm in a package that weighs just 27kg and measures less than 325mm by 562mm by 313mm. Efficiency is 97%.
First gear provides a ratio of 11.38 and second gear has a ratio of 5.85. The shift mechanism is a GKN Automotive technology already proven in series production. To make the system narrower, the shift mechanism sits on the input shaft instead of the intermediate shaft in the middle of the transmission.
GKN Automotive's software controls the eMotor and the synchro-actuation to make gear shifts completely transparent to the driver. The smooth electromechanically actuated shift and the exceptionally low gear noise makes the multi-speed eDrive the industry benchmark for comfort and NVH.
The two-speed eDrive is the first to be able to boost the performance of EVs and hybrids across their entire speed range. Single-speed eDrives limit either acceleration or top speed as they must disconnect at certain speeds to prevent the motor overspinning.
GKN Automotive's multi-speed eDrive modules enable automakers to increase torque and efficiency, while simultaneously reducing energy storage requirements, system weight and packaging space. For future flat-floor vehicle architectures, the modular solution creates new packaging and performance possibilities.