GKN strengthens motorsports parts to harness extreme torque of Jeep® Grand Cherokee Trackhawk
Upgraded propshaft and halfshafts help propel a more than 5,300 pound SUV from 0-60 mph in 3.5 seconds
Trackhawk's rear halfshafts are 42% stronger with use of aerospace-grade steel
Custom solution for Trackhawk yields halfshaft with highest torque capacity supplied by GKN for any volume-produced vehicles
GKN Driveline utilised expertise from its motorsport team to develop custom solutions to meet the extreme strength, durability and performance requirements for the 2018 Jeep® Grand Cherokee Trackhawk - the most powerful and quickest SUV ever.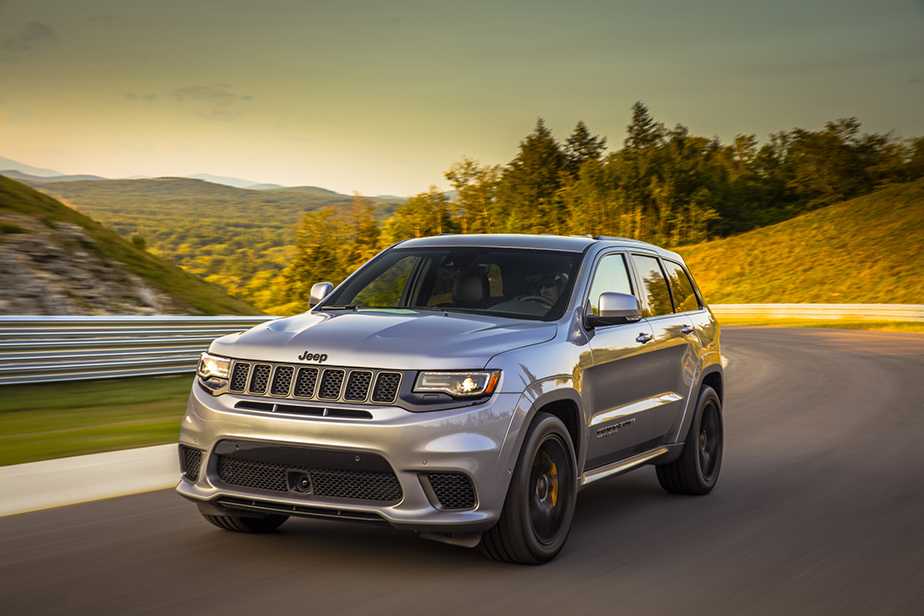 GKN Driveline engineers worked with the SRT engineering team at FCA US LLC to strengthen the Grand Cherokee's driveline, upgrading the rear halfshafts and propshaft to deliver the extreme torque required to propel a more than 5,300 pound SUV from 0-60 mph in 3.5 seconds.
"The aerospace-grade 300M high-strength low-alloy steel used for the Trackhawk rear halfshafts isn't found on other high-volume passenger vehicles and it's 42% stronger than existing Grand Cherokee halfshafts," said Uwe Paksa, GKN Driveline Vice President CVJ Engineering. "We based the design on components from GKN's motorsport division, and further upgraded the halfshaft thickness and strength to harness the 645 lb-ft of torque generated by the supercharged 6.2L V-8 engine."
Jeep Grand Cherokee Trackhawk drivers can select from five different drive modes that adjust the torque split between front and rear axles. When operating in "Track" mode, 70 percent of the available torque is sent to the rear wheels. This represents the highest torque capacity for any halfshaft produced by GKN for volume-production vehicles.
To confirm the strength and durability of the rear driveline components, the GKN halfshafts were subjected to fatigue testing that replicated the stresses of more than 2000 drag launches.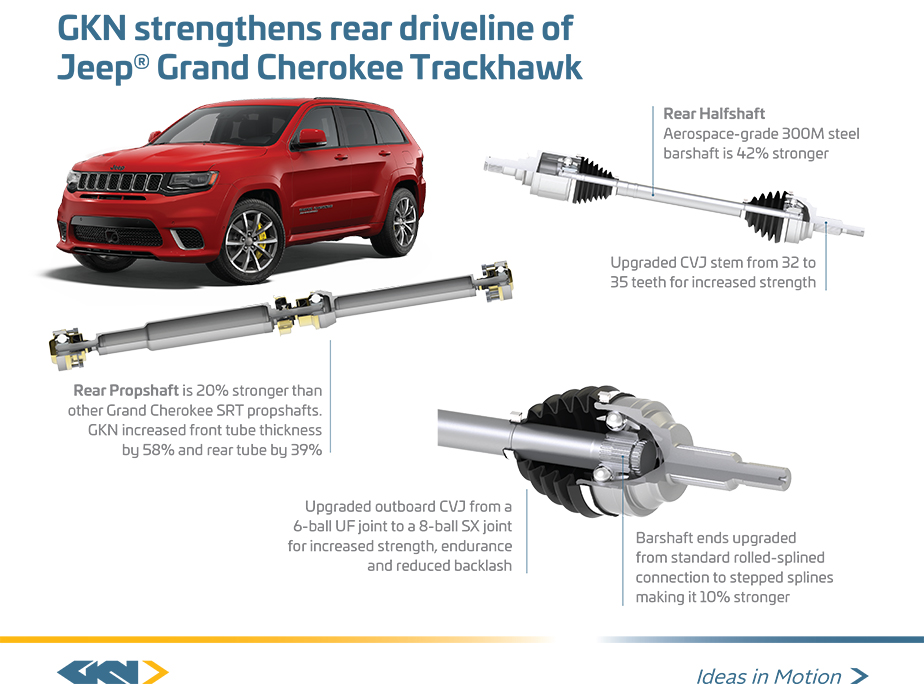 Similar halfshaft designs are supplied to GKN Motorsport customers competing in the World Rally Car (WRC) series and the gruelling 15-day Dakar Rally. These races are known for their punishing course conditions and climate extremes, whether it's a pothole-filled, ice-covered WRC winter race or the Dakar Rally's continent-spanning off-road trek through mountains, dunes and desserts. Those extreme motorsports performance requirements represent the baseline since GKN engineers further strengthened the driveline components to meet the Jeep Trackhawk's torque demands for straight-line speed.
To enhance the performance of the rear halfshafts, GKN Driveline upgraded the outboard constant velocity joints (CVJ). GKN's SX joint with patented Countertrack® technology employs a high-efficiency design that increases torque capacity up to 25% compared to a similarly-sized six-ball CVJ.
The Trackhawk's high-performance driveline also features an upgraded rear propshaft that is 20 percent stronger than other Grand Cherokee propshafts thanks to higher strength front and rear tubes.
Uwe Paksa added: "This unique program gave us the opportunity to apply GKN's motorsports technology to a high-volume SUV, and it relied on GKN's core engineering skills of providing extreme capabilities and performance within tight packaging constraints."