Integrated eDrive system is adaptable for use in fully electric or hybrid applications
Ground-breaking new two-speed transmission maximises efficiency and boosts performance
Intelligent 'Twinster' torque vectoring technology improves driving dynamics and safety
Technology adaptable to suit any vehicle type, from city cars to off-road-focused SUVs
GKN Driveline will reveal an all-new electric axle concept at the 67th Frankfurt International Motor Show (IAA) this week, representing the world's most advanced electrified driveline technology. The state-of-the-art concept is a showcase for GKN's expertise in efficient and high-performance compact driveline systems.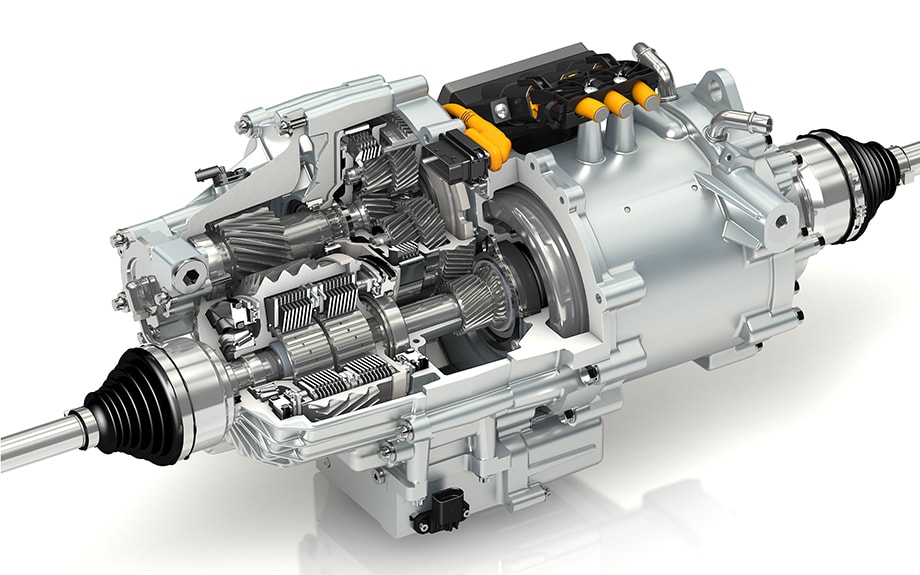 GKN's new eAxle is called 'eTwinsterX' and offers three key advantages over conventional electric drivelines. Starting with the design, the integrated coaxial format means that the electric drive (eDrive) unit is significantly smaller than other systems with equivalent power outputs.
Its size also contributes to its adaptability to suit any vehicle type, from city cars to luxury plug-in hybrid SUVs, whether front-wheel drive, rear-wheel drive or all-wheel drive. The technologies within the eTwinsterX system also mean that it is the first eAxle in the world that has full off-road capabilities.
eTwinsterX boasts industry-leading efficiency, with a unique two-speed transmission that transmits the drive motor's power, optimising gear changes for the best possible efficiency, as well as delivering seamless shift performance. A further dynamic advantage is that the new eAxle incorporates GKN's celebrated 'Twinster' torque vectoring technology, delivering significant advantages for vehicle stability, agility and safety.
Peter Moelgg, CEO of GKN Driveline's AWD and eDrive business, said: "eTwinsterX will deliver unrivalled capabilities for the next generation of electric vehicles. It takes multiple award-winning elements from our GKN driveline portfolio and applies the principles in a single state-of-the-art electrified system. GKN is unique in being able to deliver an integrated e-motor, two-speed electrified transmission and torque vectoring within a complete eAxle system. GKN's capability as a complete systems integration partner will also allow us to calibrate eTwinsterX to deliver fully brand-aligned experiences for our OEM customers around the globe."
Integrated and adaptable
GKN has now manufactured more than 400,000 eDrive units, and eTwinsterX is a showcase for the company's expertise in these integrated systems. Components are tightly packaged, and the powertrain elements share a common housing. This integrated format has significant benefits when trying to accommodate an eDrive unit within a vehicle chassis. It also has advantages on vehicle assembly lines, because of the simpler method of installing a single all-in-one integrated system instead of multiple individual eDrive components.
GKN's eTwinsterX system can be used either for the primary drive in fully electric vehicles, or for the secondary drive on plug-in hybrid vehicles – creating a 'split-axle' driveline. GKN's expertise in this hybrid design is well established, supplying high-performance front eAxles for the Porsche 918 Spyder and BMW i8 supercars, as well as efficient rear eAxles for the Volvo XC90 T8 Twin Engine and BMW 2 Series Active Tourer. eTwinsterX can also be integrated into existing vehicle platforms, enabling 'bolt on' all-wheel-drive hybridisation without major modifications to the design.
Two-speed for efficiency and performance
eTwinsterX employs a unique two-speed transmission, which enables a better balance of acceleration and top speed than conventional single-speed electric drive units. GKN Driveline pioneered this technology with the first production two-speed electrified vehicle transmission in the BMW i8 hybrid supercar, launched in 2013. The two-speed system in eTwinsterX is an all-new design, and has been developed to deliver additional benefits, including seamless shift performance.
Multi-speed transmissions enable electric vehicles to deliver better launch performance, using the lower gear, and more efficient high-speed driving using the higher gear. The system's optimised shifting strategy, which keeps the e-motor operating close to its efficiency 'sweet spot', means that it can deliver greater maximum driving range. Put simply, GKN's eTwinsterX delivers more 'miles per watt' than conventional eDrive systems.
Single-speed transmission vehicles typically have a mechanically-limited top speed, because over this speed the e-motor would be operating in an inefficient part of its rev band. With a two-speed system, the higher gear allows the e-motor to operate at a lower – and more efficient – RPM at high driving speeds, using the same principles as a conventional gearbox with a combustion engine.
Twinster torque vectoring
Torque vectoring provides intelligent control of the vehicle dynamics by managing the distribution of torque to individual wheels. For example, by enabling over-speeding of the outside wheel in a corner, torque vectoring can induce a yaw-moment, helping to steer the vehicle more safely towards a tighter cornering radius. GKN Driveline's Twinster torque vectoring solution is unique in that it replaces a conventional differential with a twin-clutch system that precisely adjusts the torque delivery to each wheel.
Twinster technology is central to the new eTwinsterX driveline, delivering specific benefits for both fully electric and hybrid vehicles. Fully electric drivelines transmit high levels of torque instantly to the driving wheels, and by distributing this torque precisely between the wheels, GKN's system ensures more stable take-off, acceleration and cornering. Plug-in hybrid drivelines typically involve the addition of an electrified element to the rear axle, which adds weight and can increase the vehicle's tendency to understeer. For these models, eTwinsterX's precision torque distribution to the rear wheels can mitigate the change in mass, delivering greater agility and more engaging driving characteristics.
eTwinsterX can also produce a negative torque effect to slow the vehicle, and provides a limited-slip differential function. When a dynamic imbalance is detected across an axle, the system sends more power to the wheel with the higher traction. When slowing down, the electrified Twinster system can also stabilise the vehicle and recover kinetic energy at the same time, maximising the recuperation potential of the eDrive system.
Future applications
GKN Driveline's eTwinsterX is a functional system that will appear in demonstrator vehicles from late 2017. The eDrive system has been designed with production applications in mind, and will be put through live trials including GKN's extensive winter testing programme in early 2018. It is envisaged that the first eTwinsterX demonstrators will be in plug-in hybrid variants of existing model platforms. These test cars will demonstrate the advantages of 'bolt on' hybridisation, as well as the range of benefits that the system delivers for performance and efficiency.
The global debut of GKN Driveline's new eAxle system will take place at the 67th Frankfurt International Motor Show (IAA) on Tuesday 12 September.
View the IAA event page to download images of the eTwinsterX