Integrated 'eTwinsterX' system on test in prototype vehicle at GKN Wintertest
New eDrive system is an 'all in one' unit with torque vectoring capability and two-speed e-transmission
Latest technology incorporates learnings from GKN's family of pioneering Twinster systems
Petrol-powered AWD SUV reengineered as a plug-in hybrid with pure electric drive mode
Redditch, UK – 01 March 2018: GKN's all-new coaxial electric axle system – the 'eTwinsterX' – is now in the prototype stage, with a working example up-and-running in a demonstrator vehicle at GKN Driveline's 'Wintertest' engineering showcase. The eTwinsterX system was first revealed at the 2017 IAA Frankfurt Motor Show, and features an integrated e-motor, highly efficient two-speed e-transmission, and torque vectoring capability using GKN's unique 'Twinster' clutch pack technology.
The innovative eDrive system employs a 120kW downsized e-motor, delivers maximum torque of 3,500Nm, vectors up to 2,000Nm to each rear wheel, and can operate up to maximum vehicle speeds of around 250kph.
GKN's eTwinsterX system has capabilities beyond any current electrified driveline. It is significantly smaller than systems with equivalent power outputs, enabling easy integration into a multitude of vehicle platforms, and in a variety of layouts: front-wheel drive, rear-wheel drive or all-wheel drive. The range of potential applications extends from entry-level electric city cars to plug-in hybrid luxury SUVs and fully electric all-wheel drive hypercars.
The new eTwinsterX unit provides industry-leading efficiency thanks to its coaxial format – which enables more direct torque flow – as well as its optimised two-speed e-transmission and smart shifting strategy. As the name suggests, the new eAxle incorporates GKN's award-winning Twinster torque vectoring technology, delivering specific advantages for vehicle stability, agility and safety.
Peter Moelgg, CEO of GKN Driveline's AWD and eDrive business, said: "When we revealed this concept at Frankfurt last year, we said that eTwinsterX would deliver unrivalled capabilities for the next generation of electric vehicles. Our team has worked hard to prepare the first prototype for the 'Wintertest' programme, and we look forward to demonstrating the system in full.
"The dynamic development of eTwinsterX is testament to GKN's unique position in being able to deliver an integrated e-motor, two-speed e-transmission and torque vectoring within a complete eAxle system. Our calibration expertise also means that we can optimise these technologies to deliver fully brand-aligned experiences for our global OEM customers."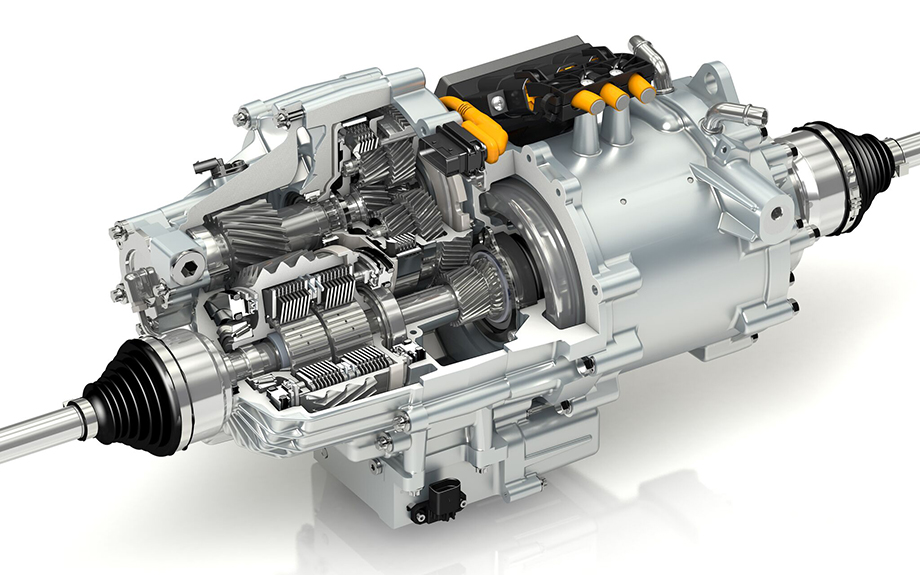 The growing Twinster 'family'
GKN's Twinster system has fundamentally revolutionised the way in which all-wheel drive systems can operate, and the response that they can deliver to the driver. Displacing conventional – and more complex – differentials, the unique technology employs twin clutch packs, which are controlled individually to distribute precise levels of torque to each wheel. Twinster therefore enables more freedom in the control systems, which can expand the vehicle's dynamic capabilities.
The technology has been developed over recent years, and GKN is now expanding the number of applications in which it can deliver its benefits across a growing family of Twinster systems. The company's 2018 Wintertest programme will be used to evaluate a number of developments of the existing production Twinster system, as well as new applications that have the potential to deliver the technology's benefits in exciting new ways.
Twinster as a hang-on AWD system
For existing front-wheel drive vehicles, Twinster can be added as a hang-on AWD system at the rear, enhancing the driveline with the improved traction and stability of all-wheel drive. GKN's software integrates with the automaker's other ECUs to manage the distribution of torque between front and rear axles, and between the rear wheels – according to changes in throttle position, steering angle and the road surface.
In its first production application, the Range Rover Evoque, the Twinster system has a bespoke calibration to provide improved efficiency – through disconnecting as much of the driveline as possible when cruising – as well as superior off-road capability. In the new Opel Insignia, the system provides improved driving dynamics and helps to counteract understeer, delivering stable and predictable handling in all weather conditions.
One of the Twinster system's most lauded applications is in the Ford Focus RS, where it has enabled previously unimaginable all-wheel drive dynamics in the hot hatch sector. Set up for maximum driver enjoyment, the Focus RS has an innovative combination of new gearing ratios and control algorithms to over-speed the rear wheels, helping Ford to create a car with unprecedented dynamics, feel and handling.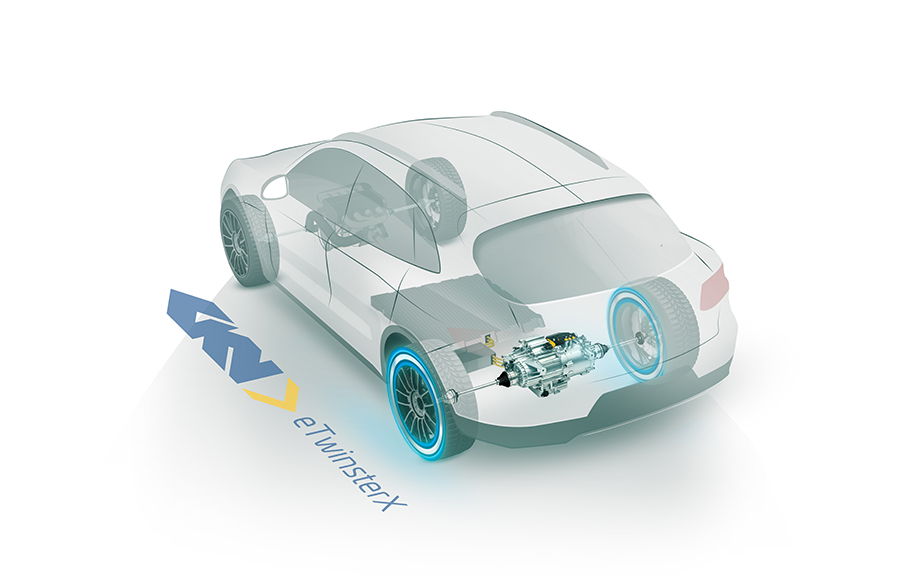 Rear-wheel drive Twinster
For GKN's 2018 'Wintertest' demonstration and evaluation event, Twinster appears in a new prototype application within a BMW M3 chassis. Not only is this the first time that Twinster has been applied to a rear-wheel drive vehicle, it is also the first vehicle to be driven solely by GKN's twin-clutch system. In current production applications, Twinster is a secondary drive axle, but in the M3 it is showcased as the primary drive axle. As well as creating new dynamic possibilities for the vehicle, the setup also demonstrates the potential for higher efficiency, with a true 'sailing' capability through GKN's disconnecting driveline components.
eTwinster: twin-clutch torque vectoring for electric vehicles
Applied in prototype form in a new Volvo XC90 demonstrator, the eTwinster unit takes GKN's coaxial eAxle – already supplied to Volvo for its T8 Twin Engine plug-in hybrids – and enhances it with its precision torque vectoring system. Given the high levels of torque available instantaneously from electric vehicles, GKN's system provides significant benefits when it comes to managing this torque through the driveline to improve stability and traction.
Adding GKN's Twinster system to its coaxial eAxle plays to the strengths of the latter. Because of its unique integrated design, whereby the e-motor is wrapped around the drive shaft, the eAxle is approximately 15% smaller and 10% lighter than electric vehicle systems that use separate components. The more direct flow of torque and smaller number of interfaces mean that the coaxial eAxle is also more efficient and more refined than other systems.

eTwinsterX: on test in the depths of Sweden
The testbed for eTwinsterX is GKN Driveline's Mercedes-AMG GLA 45 prototype vehicle. The car has been reengineered by GKN for use at its cold weather testing facility in Arjeplog, Sweden, and includes the first working version of the eTwinsterX technology, which will enable in-depth evaluation. In this inaugural application, the system adds a different kind of rear-wheel drive capability to the driveline, including true torque vectoring for traction, stability and dynamics, as well as plug-in hybrid functionality. It also allows the car to run on electric power only through the two-speed transmission, thereby adding a high performance zero-emissions element to the driving experience.