GKN's award-winning coaxial-design electric axle powers LEVC's new range-extended electric taxi, the TX eCity
Compact packaging of e-motor, gearbox and differential delivers a lightweight and highly-efficient driveline
Integrated design maximises space
Bespoke development of the eAxle first seen on Volvo T8 Twin Engine plug-in hybrid models
Redditch, UK, 05 February 2018: GKN Driveline's expertise in efficient, high-performance electric vehicle systems is delivering zero-emissions capability for London's new electric taxi. A unique development of GKN's coaxial eAxle powers the rear wheels of the LEVC (London EV Company, formerly known as London Taxi Company)'s electrified TX model.
Designed to minimise packaging and maximise performance, GKN Driveline's coaxial eAxle sets new standards in eDrive sophistication. The eAxle was launched in its first application across Volvo's range of T8 Twin Engine plug-in hybrids, picking up an Automotive News PACE Innovation Award in 2016. In these models, GKN's system has an 'axle split' secondary drive role, with a 60kW e-motor providing motive power to the rear wheels – working in conjunction with a combustion engine that drives the front wheels.
In the LEVC TX, GKN's eAxle is always the primary drive unit, and so uses a more powerful 120kW e-motor. A small petrol engine at the front of the taxi provides range-extended power to the battery pack only, which means the taxi is always powered electrically by the eAxle. The TX's pure-electric driving range is around 80 miles, according to official test figures, whilst the petrol generator takes the total range up to 377 miles.
As with all GKN Driveline systems, the coaxial eAxle for LEVC has been uniquely engineered to achieve the desired characteristics for the vehicle's dynamics. The core design of the eAxle is shared with Volvo's plug-in hybrids, but its bespoke features meet a totally different set of driving requirements. The lightweight unit weighs less than 17Kg and has a mechanical efficiency of up to 97.5%.
Phil Swash, GKN Driveline Chief Executive Office, said: "London's black cab is recognised worldwide, and we are immensely proud that a GKN electric driveline is helping to power a new generation of taxis capable of running with zero emissions. NOx reduction is a key target of global cities and developing cleaner, more efficient taxis will play a significant role in achieving that.
"This project is another showcase for our scalable eAxle technologies, which are enablers of cost-effective plug-in hybrid and range-extended electric models. LEVC is the latest vehicle manufacturer to realise the benefits of GKN's unique technologies and its expertise as a full systems integration partner."
Components within GKN Driveline's coaxial eAxle designs are tightly packaged, with the reduction gearbox, open differential, driveshaft section and e-motor sharing a connected housing. This level of integration has significant benefits when it comes to packaging the eDrive unit within the new taxi's chassis.
As the range-extender combustion engine is never providing power directly to the rear wheels, the TX does not need a propshaft, which delivers further advantages for weight and packaging.
Production of the electrified LEVC TX is already underway at a brand-new facility in Ansty, near Coventry. The new taxi meets stricter Transport for London licensing requirements that come into force on 1 January 2018, which mandate a minimum 30-mile zero-emission range and maximum CO2 emissions of 50g/km for new taxis on the road*.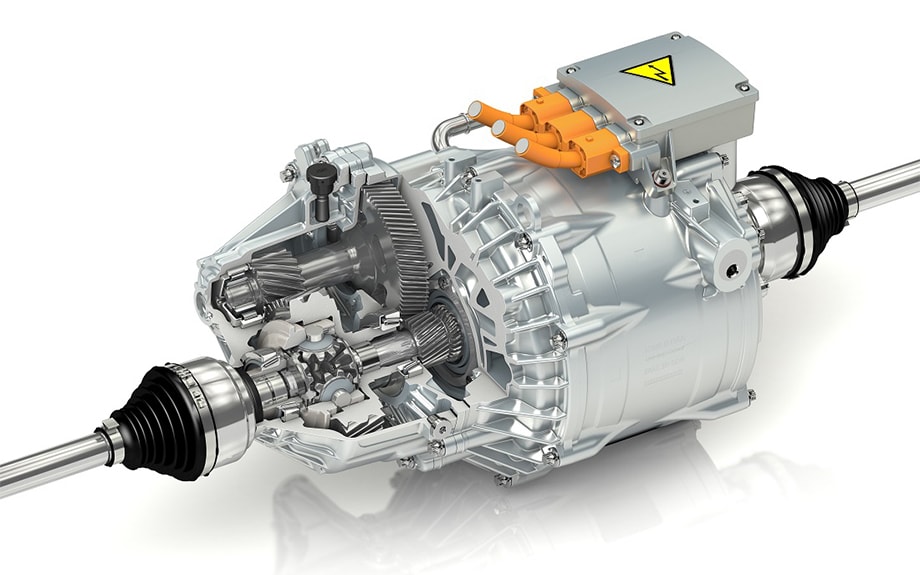 *New licensing requirements from 1 January 2018 apply to taxis in London, defined as Transport for London-licensed 'Hackney carriages'. Separate requirements come into force for Private Hire Vehicles in London at later dates.