Formula Student (FS) has always been close to GKN's heart. As the company changed, GKN Automotive Innovation Centre remained a significant sponsor, supporting the competition and also offering in-kind support to two electric teams (Oxford Brookes Racing and University of Nottingham). Having access to our test-rigs played no small part in Nottingham's success this season. But what's in it for us?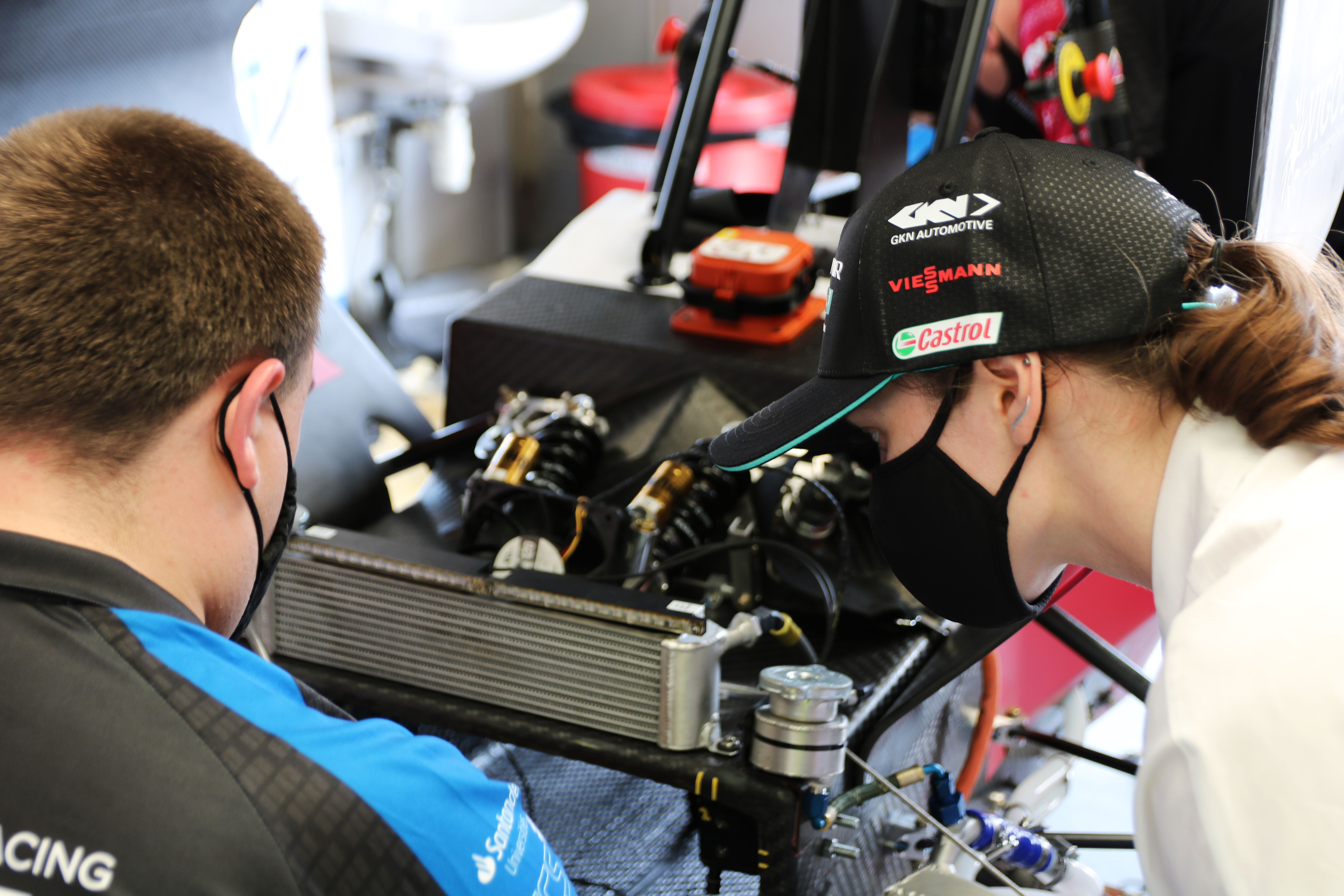 FS is a European educational engineering competition, which, according to the Institute for Mechanical Engineering (IMechE) - organiser of the UK competition - 'aims to develop enterprising and innovative young engineers and encourage more young people to take up a career in engineering'. University Teams are tasked with producing a prototype for a single-seat race car for autocross or sprint racing and present it to a hypothetical manufacturing firm. What started as a combustion engine only competition, FS now includes Electric Vehicles (EV) and Autonomous Cars (AI).
Successful teams are:
collaborative: many engineering disciplines are required to build a prototype car, especially an EV. It also requires business acumen, project management skills, marketing knowledge and fundraising abilities.
principled: often the collaboration extends to helping the competition, such as lending spare parts or equipment (Nottingham would not have raced this year without Oxford Brookes Racing and Leeds lending them brakes). Everyone involved knows how invested teams are and how hard they worked to get there, and there is no glory in competing alone
driven: it takes a lot of hours to bring a car to the competition. Many students work long days to overcome the myriad technical challenges they face to pass scrutineering and race their best car.
ingenious: one of our engineers, who is also ex-FS, strongly believes that is where he learnt engineering. He once told me that there was no textbook for the problems his team encountered, they had to figure it out
They are all supported by committed academics, who will invest huge amount of energy to secure the money required to enter a team, but more importantly, to create opportunities for the students to learn. Gordana Collier, Head of School of Engineering, Computing and Mathematics at Oxford Brookes University, and FS advocate, told us that "the 'applied' learning necessary to design and manufacture a fully-working race car at leading edge of technology is only possible with the help of experts in industrial setting. The mentoring from GKN Automotive discipline specialists, who generously donate their time and facilities to Oxford Brookes project, is the type of sponsorship that money cannot buy. It also brought us closer with our 'competitors' from University of Nottingham, developing admirable camaraderie and mutual support between the two teams."
As an employer, we benefit in a number of ways from this association:
We have built a strong talent pipeline of candidates that undoubtedly fit our values and behaviours and enables us to respond quickly and cost-effectively when new opportunities arise.
When few students have access to practical experiences, FS enables young engineers to join the organisation work-ready, which means they can be operational more quickly.
FS has helped us build strong links with a number of universities.
Supporting the FS build, by opening our test-rigs to the students, has been excellent for staff engagement. Our background is in motorsport and many are still involved in their spare time. Being associated with FS keeps staff connected to their past achievements and brings the competitive spirit back on the site. More importantly, it develops mentoring and sometimes even their technical skills within the team.
We were all extremely proud when Nottingham won third place in the competition and was the only EV team to complete the Endurance Test, but we were even prouder to be associated with the development of such talented teams. We can't wait to meet next year's talent!