GKN Automotive reveals concept design for a plug-and-play modular electric drive unit
Concept aims to meet growing demand for high-quality and cost-effective off-the-shelf eDrives from niche and low volume OEMs and conversion companies
London, UK, 26 October 2023 – GKN Automotive, the global leader in drive systems, has unveiled a new plug-and-play eDrive concept designed to meet the growing demand among niche electric vehicle players and EV conversion companies for modular electric drive technology.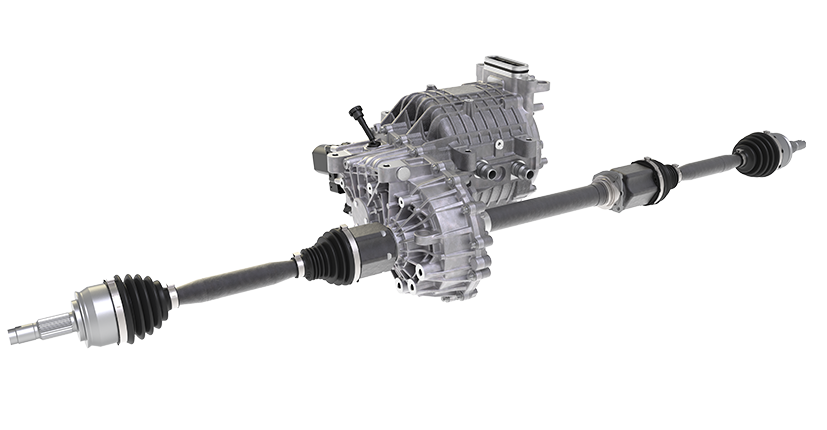 The new eCrate concept utilises GKN Automotive's 20 years of eDrive experience to create a cost-effective modular electric drive system with optimal efficiency and performance and market-proven technology in an off-the-shelf format.
With a choice of three systems, the first of which could be available as early as 2025, prospective customers can select the best solution for their required application from a 113kW 2-in-1 combination system (motor and transmission) or a fully integrated 3-in-1 system comprising an electric machine, transmission and inverter, in a choice of 113kW or 185kW output.
Targeted toward the growing number of niche and low volume electric vehicle players, as well as the retro-conversion market, the concept aims to test market appetite for a new approach to eDrive sales. Suitable for various purposes, including small to large cars and light commercial vehicles in series production, the concept has the potential to help accelerate the transition to full electrification by empowering start-ups and established low volume players.
The new concept will be showcased at GKN Automotive's stand (booth number 25026) at the SEMA Show (Las Vegas, 31 October – 3 November), and businesses are encouraged to register their interest via the website here
Dirk Kesselgruber, Chief Technology Officer at GKN Automotive, comments: "We have spent the last 20 years producing leading eDrive technologies for global vehicle manufacturers, enabling them to drive the electric revolution. Based closely on our existing technology, our new eCrate concept will bring this technology to even more customers looking for high-quality and cost-effective electric drive units in a plug-and-play format. By introducing new innovative and sustainable solutions, we are helping to drive a cleaner, more sustainable world."

- ENDS -
Notes to Editors
ABOUT GKN AUTOMOTIVE
GKN Automotive is a world-leading global automotive technology company at the forefront of innovation. Its origins date back to 1759 and for the last 70 years it has been putting key technologies into series production. It is the trusted partner for most of the world's automotive companies, specialising in developing, building, and supplying market-leading drive systems and advanced ePowertrain technologies.
It is the global leader in sideshafts, with eight out of ten of the world's best-selling cars outside China using its sideshaft technology. GKN Automotive's first eDrive system was fitted to a production car over 20 years ago; today, over two million electrified vehicles worldwide are powered by this technology.
GKN Automotive is part of Dowlais Group plc, a specialist engineering group focused on the automotive sector.
For further information, please contact:
Corrie Raine
External Communication Manager
GKN Automotive Email: Corrie.Raine@gknautomotive.com