GKN will apply its driveline and additive manufacturing expertise to Formula E racing series
Partnership set to continue GKN's remarkable motorsport heritage
GKN collaboration with Jaguar since the original 1935 saloon
Frankfurt, 13 September 2017: GKN has agreed a multi-year partnership with Panasonic Jaguar Racing, which will see the global engineering group provide design, manufacturing and consultancy services to the Formula E team.

The official partnership was announced at the Frankfurt Motor Show, in advance of the 2017/18 FIA Formula E championship that commences in Hong Kong on 2 December, and continues GKN's longstanding relationship with Jaguar.
Expertise from across GKN will provide technical consultancy and new technology, from driveshafts and differentials to the use of additive manufacturing, for the team's Formula E race car – the Jaguar I-TYPE. GKN Driveline's considerable experience in delivering state-of-the-art electric vehicle systems means it will also advise on the development of the I-TYPE's all-electric powertrain.
The GKN logo will feature on the livery of the 2017/18 I-TYPE race car, as well as driver helmets and suits, team kit and merchandise.
Phil Swash, GKN Driveline Chief Executive Officer, said: "We have been following the development of Formula E since its inception and have been impressed by how quickly the series has established itself as a competitive and exciting racing series. GKN is excited to be involved in this electric technology showcase and to continue its activities in global motorsport.
"As a world leader in advanced drivelines, lightweight structures and state-of-the-art electrified systems, GKN is proud to join Panasonic Jaguar Racing in its mission to innovate and inspire on the world stage. We can't wait to get racing in Hong Kong."
Jaguar Land Rover is Britain's largest R&D investor, and its Formula E motorsport team continues its mission to 'Race to Innovate', using the championship as a platform to develop the next generation of battery electric vehicles.
James Barclay, Panasonic Jaguar Racing Team Director, said: "We are honoured to welcome GKN to our team - a company that will bring its expertise and experience to the race track. They share our passion to inspire the next generation of engineers. At Panasonic Jaguar Racing, we want to be successful on and off the track and we look forward to driving forward together in this multi-year partnership."
Formula E continues the long-running partnership between GKN and Jaguar, dating back to 1935 when GKN supplied driveline technology to the first SS Jaguar saloon. Today, GKN supplies every Jaguar model on the market with a range of driveline technologies, including high performance CV Joints and intelligent all-wheel drive systems.
In motorsport and Jaguar's performance cars, GKN driveshafts have featured on almost everything, from the Le Mans-winning C-Type in 1951 to the XJ200.
Formula E represents GKN's latest motorsport commitment, as the company already has an enviable heritage in championship-winning and record-breaking race cars. Fifty years ago, GKN sideshafts helped to power the Ford GT40 to its overall win at the Le Mans 24 Hour race. Since then, the company has continued to developed lighter, faster and h2er technologies to help its clients finish at the top of the podium.
Colin McRae's 1995 World Championship Rally winning car employed GKN driveshafts, propshafts and CV joints – and numerous subsequent champions have done the same. GKN's expertise in rally cars also saw its driveshafts feature in the 2016 WRC-2 championship winning Skoda Fabia R5.
GKN systems helped electric vehicles to class wins at Pikes Peak in 2012 and 2013. Its electric flywheel was part of Audi's winning formula with the R18 e-tron Quattro at Le Mans in 2014. The top 10 finishers in the 2017 Dakar Rally all used GKN driveshaft joints, and it currently supplies the entire grid of the British Touring Car Championship with outbound CV joints.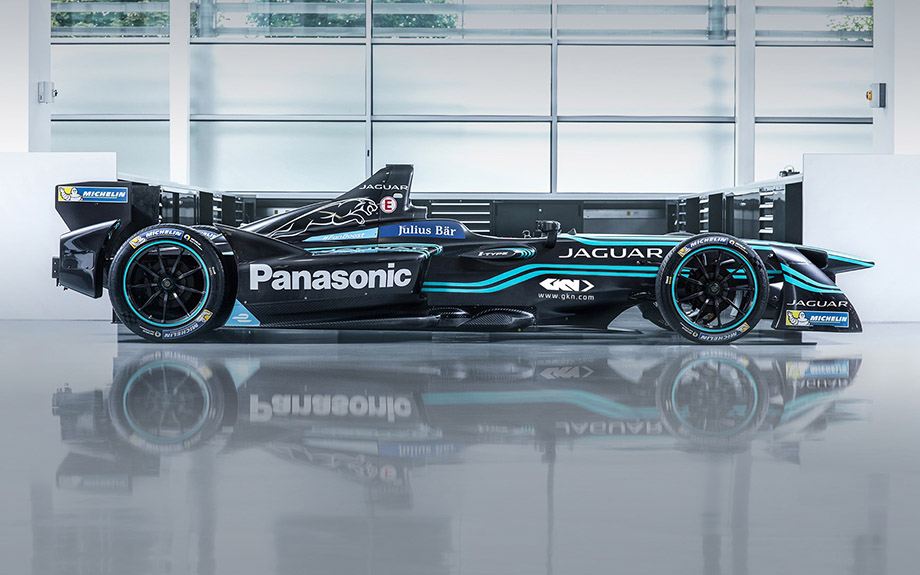 GKN DRIVELINE AT IAA 2017
This year's Frankfurt Motor Show saw the global debut of GKN Driveline's all-new 'eTwinsterX' axle concept, representing the world's most advanced electrified driveline technology. The state-of-the-art concept is a showcase for GKN's expertise in efficient and high-performance compact driveline systems. The announcement of GKN's official partnership with Panasonic Jaguar Racing continues the theme of excellence in electrified driveline technology.
ABOUT GKN
GKN plc is a global engineering group. It has three divisions; GKN Aerospace, GKN Driveline and GKN Powder Metallurgy, which operate in the aerospace and automotive markets. Over 58,000 people work in GKN companies and joint ventures in more than 30 countries. GKN is listed on the London Stock Exchange (LSE: GKN) and recorded sales of £9.4 billion in the year to 31 December 2016.
ABOUT GKN DRIVELINE
GKN Driveline is the world's leading supplier of automotive driveline technology and systems. As a global company serving the world's leading vehicle manufacturers, GKN Driveline develops, builds and supplies an extensive range of automotive driveline technologies – for use in the smallest ultra low-cost car to the most sophisticated premium vehicle demanding the most complex driving dynamics. GKN Driveline is a leading global producer of CVJ Systems, four-wheel drive Systems, Trans Axle Solutions and eDrive Systems and operates in 23 countries at 49 locations employing approximately 28,000 people.
ABOUT PANASONIC JAGUAR RACING
Jaguar returned to racing in October 2016, becoming the first premium manufacturer to join the all-electric FIA Formula E street racing series.
Jaguar's Formula E programme will create tangible R&D benefits for the electrification of future Jaguar Land Rover road cars and is designed around the team's founding principle, 'Race to Innovate'.
Manufacturers can design their own powertrain, which includes the motor, transmission, inverter and the rear suspension. Common components across all teams include the carbon fibre chassis and battery to control costs. The focus is on developing electric vehicle powertrains.
Beyond its all-electric concept, Formula E is also unique in the world of motorsport for its choice of venues. With the exception of the Mexico ePrix, every round of the championship takes place on temporary street circuits in the centre of the world's major cities.
Each race day sees all track action including practice, qualifying and racing, taking place in a single day. Beginning on December 2, the 2017/18 calendar includes 14 races in 11 cities, including double-header races in Hong Kong, New York and the season finale in Montreal.
For further information about GKN Driveline, please contact:
Ed Callow
PFPR Communications
Tel: +44 1622 766520 / +44 7732 088337
Email: ed.callow@pfpr.com Michael Clarke, Media Manager
Tel: +44 1527 53 3660
Email: michael.clarke@gkndriveline.com
For further information about Panasonic Jaguar Racing, please contact:
Phoebe Eaton, Media Officer
Tel: +44 7745 161588